Virus & Spyware Removal
Is your computer infected with a virus? are you getting pop ups or browser redirects? If the answer is yes, your pc might be infected with a virus/malware. Recently, we started seeing a lot of viruses that will hijack your browser and redirect you to offer advertisements pages or/ and adult sites. Another type of virus will install unnecessary software in your system and try to sell you products. The last type of virus is the ransom ware. This virus is really evil and does create serious damage to your system files and documents. This type of virus will encrypt all your documents and personal files and will demand a ransom in exchange of the encrypted files. Don't panic! Our expert techs have the necessary tools and experience to remove any nasty viruses from your system. If you have any questions or concerns, give us a call, or come to your shop. We are here to help you!
A strong defense is your best offense from incoming viruses. We can install and configure the security software needed to guard and protect your computer, as well as your personal data.
If your PC is experiencing slow performance, annoying popups, or startup issues, it is most likely compromised by infected processes. We can remove the viruses, malware, rootkits, spyware, or adware, and clean up your system functionality. Then, secure it from further harm.
Major virus issues
There are tons of ways in which you can easily diagnose why your system is aiming in an abnormal manner. A virus attack doesn't have to be always like a message from the hacker popping up on your screen or monitor. It could come in various ways like:
Several redirecting pages formed from the homepage/web pages
Screen freezing again and again
System running slower
Ads popping up
Various pop ups
Distortions in the settings of the Desktop
Troubleshooting errors
Random error messages
Fake virus scans
False negative virus reports
Antivirus going rogue
Symptoms of a computer infected with a virus
If your computer is behaving unusually slow, freezing, or even if you see pop-ups that say you have a virus and need to purchase antivirus software, internet redirects to unwanted websites, unusually high network activity, files are missing or corrupt, new toolbars in your browser many of these are symptoms that your computer has been compromised with a virus.
Steps to virus's removal
Disconnect your computer from the internet. This will help protect your data and prevent further infections.
The best solution is to bring your laptop or computer for a complete virus & spyware removal.
Our experts will diagnose your computer and get it back in tip-top shape. We'll even recommend software and strategies to avoid reinfection
Online Antivirus Checks These sites will check your system for viruses on-line.
We are specialists in removing the following types
Boot Sector Virus
Direct Action Virus
Resident Virus
Multipartite Virus
Polymorphic Virus
Overwrite Virus
Spacefiller Virus
Hijacks
Worms & Bugs
Rootkits
Malware
Adware
Keyloggers
Boot Viruses
Macro Virus
Trojans
Spyware
Web Scripting Virus
Program Viruses
Crypto ransomware
Keep in mind, these are broad strokes. We do many things, too many to list! Give us a call to see if we can help you with something we missed.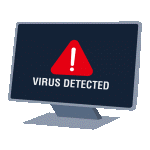 Virus & malware removal
Viruses are nasty little things. We've got the tools & know-how to take care of them though. Just lets us have a look & we'll get it done.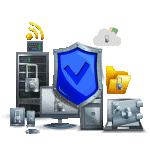 Device protection
Anti-virus, secure firewall, hardened passwords & more all contribute to a secure environment. Let us audit your devices.
Operating system checks
Is your Windows/Mac machine up to date & on the latest version? Maybe you're still on Windows 7, or worse – Vista!
Anti-Virus solutions
"Any antivirus will do", that's what your 8 year old iPad wizard said. Believe us, if it was that easy then hackers wouldn't waste their time.
Frequently Asked Questions
Q. Is Your Internet or Email Connection Down Or Slow?
Are you having problems with the internet or no emails arriving? You start the browser, and nothing appears on the screen?
Maybe that there is a problem with your connection, involving either software, hardware, or combination of both. If that's the case, you can rely on Creative Computers to have it diagnosed and repaired to have you back online in no time!
Q. Are You Seeing Strange Messages or Blue Screen?
Does your computer freeze in the middle of typing an email or letter?
Does it produce some cryptic message on the screen, indicating an error has taken place?
Do you get a black or blue screen when trying to start up your computer?
Chances are you have either a hardware or software issue causing this. Creative Computers can fix this and bring it back to life sooner than you think!
Q. Malware, Spyware or Virus Detection And Removal.
Is your computer running slower than usual or pop-ups with advertising appearing out of nowhere? You may be a victim of malware, spyware and or viruses which can cause lots of problems to your computer. We can make sure that this does not happen, will give you a professional expert solution and repair this very common problem.
Q. Free estimate for all repairs.
We provide a free estimate and give quotes to every customer. No laptop repairs are performed without the customer's approval.
Call Us
Call us or Request a Call Back for Laptops and Game Consoles, Mac Repairs. We Offer Computer Repairs in Noble Park on the same day.
We Will Discuss
Friendly, expert staff will understand the Laptop and Apple Mac as well as Desktop Computer Problems.

Same Day Services
Most of the Laptop and Apple Mac issues we can resolve within an hour.
No Fix, No Cost
Most of the Laptop and Apple Mac issues we can resolve within an hour. For unforeseen reasons we can't fix your computer problem, we won't charge our customers for diagnostics.

Why Choose Us?
Our Technicians have decades of experience in the information Technology Industry. We know cost and fast repairs are important to you. That's why we offer:
Free Quotes to diagnose issue
We are on call Monday to Saturday!
No Need to send your computer out, we can send technicians to you!
No call out fees
No fix no fee policy
Efficient service without the Jargon!
We are Microsoft and Apple Certified
24–48 hour service turn-around time*
4.8 rating on Word of Mouth and Google
*Service time subject to the type of technical issue and may be longer if hardware parts required
Ready to get started?
Contact us today for your free quote!