E-mail Setup
We will help you to establish your email on new or existing computers and devices. This service includes setting up new email accounts, logging into existing accounts, email password reset assistance, we also help with setup mail clients like Outlook, Apple mail and Thunderbird.
Email setup fix for email problems
Cannot send or receive emails – This common issue could have few possible causes, some of which are easy to identify while some might require further investigation. It could be problem on the account username and password, wrong configuration of outgoing and incoming mail server and port number.
Can receive emails but cannot send – Most of the time, this problem occurs when the outgoing SMTP server settings are not configured properly. Some email programs will require authentication from your user account to be able to send an email even it says that it is optional.
Can send emails but cannot receive – Emails usually send a bounce back message for emails that failed to be sent. One could easily look for this error message to point out the exact issue. This could also mean incorrectly configured incoming mail server settings or simply just a mail quota issue.
Compromised email account – If you have suspecting malicious access on your email account, it is best to immediately change your password on your email settings. We recommend all our customers to choose a very strong password on setting up their email accounts. It is also advisable to scan your computer for viruses to prevent account hacking in the future.
We can troubleshoot, setup and configure emails on:
1. Microsoft Outlook
2. Apple Mail
3. Thunderbird
4. Windows Live Mail
5. Windows Mail
6. The Bat!
7. eM Client
We can also troubleshoot, setup and configure emails which are:
1. POP3 and IMAP Emails
2. Exchange, Office 365 and G-suite Emails
3. Bigpond, Optus, Gmail, Outlook, Yahoo, Hotmail and iCloud Emails
Frequently Asked Questions:
What is the difference between POP, IMAP and Office 365 email accounts?
POP email accounts have been around for over 20 years. They were designed for only one device (such as a desktop PC). POP accounts have limitations as emails are not synced across devices and emails are stored only on one computer.
IMAP email accounts are a newer type which all you to sync all your emails and sub-folders across devices such as PCs, Macs, Laptops, Smart Phones and Tablets.
Microsoft Office 365 email accounts are business-grade email accounts which sync all your emails, contacts, calendars, across devices. Office 365 email accounts also have 'out of office' replies, 50gig email inboxes and professional spam filters.
What is the best email program to use when I have multiple email accounts?
Microsoft Outlook 2019 or Office 365 is the best email program to use if you have multiple email accounts. It's easy to use and reliable and can handle up to ten email accounts.
Can you help setup my Office 365 emails with my own business domain?
Yes, we can definitely setup Office 365 with your existing domain. We will need access to your domain manager or backend and advise you on the best office 365 email plan for you and how to migrate your emails from your existing provider to Office 365.
I keep getting an error in outlook saying my email password is wrong. How can I fix this?
Outlook error messages can mean a number of things. This can include wrong passwords, wrong incoming and outgoing server settings, suspended accounts, wrong security settings, outlook is out of date and email server issues at your ISP. Contact us and we will fix these issues for you.
I am trying to send emails, but they keep bouncing back with an error message. How can I fix this?
Each error message in outlook has a very specific error code. Please take a screenshot or photo of this error message and contact us, as we will be able to advise you on how to fix this.

Keep in mind, these are broad strokes. We do many things, too many to list! Give us a call to see if we can help you.
Scam Awareness Training
Email scammers are masters of disguise, whether it be phishing, whaling or trojan malware. Let us teach you how to be on the lookout.
Ensure your email delivery
Worried your emails aren't being delivered? We've got the solutions for you including SPF, DKIM, DMARC, outbound filtering & more.
General Check-over
Not sure you've got the right solution? We can help with that! We've got experience with all the major players, trust us.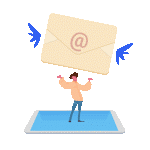 Setup & sync devices
Maybe you're using POP or iMap, which are a bit archaic. You're bound to experience synchronization issues between devices.
Why Choose Us?
Our Technicians have decades of experience in the information Technology Industry. We know cost and fast repairs are important to you. That's why we offer:
Free Quotes to diagnose issue
We are on call Monday to Saturday!
No Need to send your computer out, we can send technicians to you!
No call out fees
No fix no fee policy
Efficient service without the Jargon!
We are Microsoft and Apple Certified
24–48 hour service turn-around time*
4.8 rating on Word of Mouth and Google
*Service time subject to the type of technical issue and may be longer if hardware parts required
Ready to get started?
Contact us today for your free quote!