Computer Dust Removal
Keeping your computer & parts clean is very important to prolong the life of your computer & prevent early failure of components. Dust, dirt, and hair build up can cause your processor to overheat or your motherboard to short out and damage them beyond recovery. Computer crashes can also lead to critical data loss & downtime while the computer is repaired.
Creative Computers offers a computer hardware clean out & dust service.
Dust removal and clean out service includes full removal of dust, dirt, hair, and other foreign objects to help your computer run efficiently and prevent break down. In most services we also replace the thermal compound/paste between the processor and heat sink.
Cleaning your computer or Laptop will make it run cooler and quieter because dust can clog the air vents and fans which restricts air flow. This reduces the effectiveness of your computer's cooling system. Dust can also cause shorting of computer components because dust can conduct electricity and create an electrical path between circuits which causes power overload.
If you have pets – especially cats and dogs, are a smoker, or live in a dusty environment then your computer should be cleaned out once a year to prevent damage. It is better to be proactive and get this dust cleaned out before you need the computer to be serviced due to overheating. Dust can also create health problems and carry germs.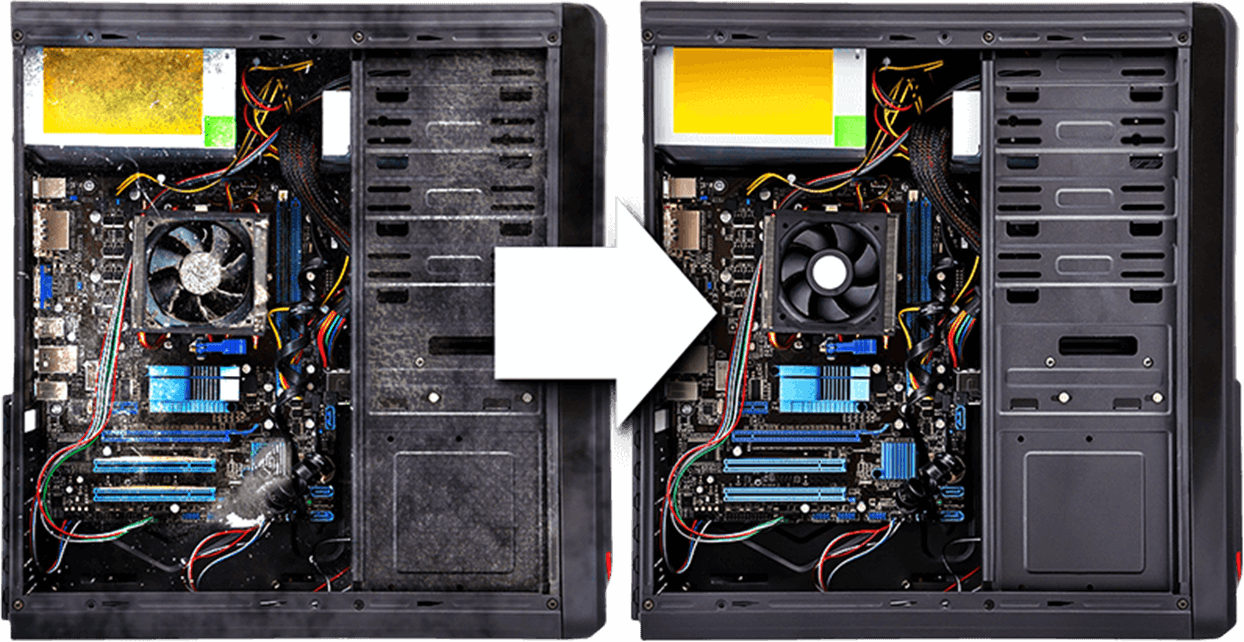 If the computer is kept in a very clean environment, then cleaning out the computer every two years should be sufficient. You can open the side of the computer case and have a quick look to see if there is any dust build up. Putting the computer on top of a desk, away from carpet, and breezy windows which blow in dust can reduce this spread of dust, but all computers are affected over time.
You should avoid using Vacuum cleaners to clean out a computer due to the large amount of static energy they create. Never ever open a power supply unit or computer monitor as capacitors inside these can hold an electrical charge for several days after being unplugged
Please do not attempt to clean your computer or laptop out yourself unless you are well prepared. When working inside computers & laptops you need to make sure you are properly grounded and do not touch the delicate circuit boards. Your body carries static electricity which can zap computer components by giving them an electric shock. Dust masks are also advised!

When your intake vents get clogged up, negative air pressure generated by exhaust fans within the case will pull air through every hole in the case, eventually clogging them with dirt, too.
Before and after shots of a dirty heatsink. As dust builds up on a heatsink it becomes less effective at dissipating heat, putting your PC at risk running too hot.
The computer processor and motherboard are most prone to failure from dust and dirt gathering inside the computer, but all computer components are at risk. Video / graphics cards normally have a very small heatsink and fan assembly which can make a loud (usually higher-pitched) whining noise when the fan is starting to fail. When overheating starts to occur due to this excess dust it can cause strange display corruption and screen artefacts. Because other expansion cards may be located near the base of the computer, they are also more likely to pick up dust.
When your computer overheats and crashes due to the dust build up, catastrophic component failure often occurs, rendering the component burnt out beyond repair. Most parts can be replaced but if the electrical disturbance caused by a short travel to the hard drive, then this can lead to loss of critical data which may or may not be recoverable. If your computer crashes while it is writing data to the hard drive, this can cause a physical drive failure or corrupt data.
Computer cases and internal components are designed with air flow considerations in mind. Air is most commonly drawn in from the front and/or side of the case, then blown out at the rear and/or top – usually via the power supply. Many computers also do not have a sufficient number of fans, or cables inside the case have not been tidied or cable managed properly, and this will block the air flow.
We can clean all makes and models of laptops, notebooks, and PC's
Environment Analysis
Sure, it may sound like a hypochondriac's excuse to stay away from the office. But a growing body of research suggests that computer mice and keyboards are, in fact, prime real estate for germs.
Execution & Evaluation
Because electronics are delicate and easily damaged by liquids, conventional techniques involving liquid cleansers cannot be used for risk of ruining the equipment's internal components.
Our Computer Cleaning service includes:
Internal boards and non-removable components are cleaned using our special compressed air machine
Fans and removable components cleaned separately
Non-electrical parts are cleaned using anti-bacterial and alcohol cleaning products
Keyboard / mouse / touch pad; debris / dust removed & sanitised
Computer casing cleaned and sanitized
All ports and drives are thoroughly cleaned
If required, we can also replace the fans and thermal compound
So fresh, so clean
Giving your machine the cleaning, it so sorely deserves might just make you feel like you've got a new computer on your hands. Now that you've got the hardware up to scratch, would you like to get the performance into shape as well? Creative Computers can get your PC or Laptop back into shape by removing leftover junk data, duplicate files, and other unnecessary apps and files. Book a service and see how much faster and lighter your machine feels.
Onsite dust out service requires a well-ventilated outside area with strong lighting and access to a power outlet. A daytime service is usually needed. Pick-up and delivery are also available.
Regular cleaning pays off
Cleaning all the muck and dirt out of a system can be pretty gross, at least the first time around, but doing it regularly ensures optimal cooling performance and stability. There's really no downside other than the time spent, which won't be fun if you've neglected your rig for an extended period of time. So, get in touch with us and we'll get our hands dirty! your PC deserves a little TLC.

ON TIME
We allow plenty of time between jobs so we can ensure we are on time, every time.
NO FIX NO CHARGE
We think it's only fair that if we lack the expertise to fix your problem, there's no charge.
NO TECH TALK
We use everyday English with no tech talk, so you won't be confused.
SAME DAY AT NO EXTRA COST
Our same day service comes at no extra cost. Call early to avoid disappointment.

NO SURPRISE CHARGES
We explain all costs upfront, so you won't be surprised by any charges.
ONSITE, HOME OR BUSINESS
We come to your home or business so there's no need to drive to find us.
Why Choose Us?
Our Technicians have decades of experience in the information Technology Industry. We know cost and fast repairs are important to you. That's why we offer:
Free Quotes to diagnose issue
We are on call Monday to Saturday!
No Need to send your computer out, we can send technicians to you!
No call out fees
No fix no fee policy
Efficient service without the Jargon!
We are Microsoft and Apple Certified
24–48 hour service turn-around time*
4.8 rating on Word of Mouth and Google
*Service time subject to the type of technical issue and may be longer if hardware parts required
Ready to get started?
Contact us today for your free quote!