MacBook Battery Replacement
Come to Creative Computers today for your MacBook pro battery replacement. An optimally functioning battery is essential to your MacBook. Visit us at 15 Ian Street Noble Park today for quality, affordable repair. Don't have your MacBook sent off to a factory indefinitely at. At Creative Computers, our approach to component level repair means we will diagnose the reason for your battery trouble and immediately remedy it. With free, while you wait estimates and same day service, our service that can't be beaten.
We provide the MacBook pro battery replacement regardless of your MacBook model. Our component level expertise means we know how to properly examine the innards of your MacBook and ensure that your battery woes aren't related to another internal issue. Our apple certified engineers have seen it all.
Price comparison for MacBook Battery replacement
| | Creative Computers | Every Last Byte | One Click PC |
| --- | --- | --- | --- |
| MacBook Battery replacement | $185+* | ~$330 | ~$265 |
*Price may vary depending on the model, year, and location. Call 0433 136 255 for details.
If you do need a new battery, we only use brand name, OEM models. Other services offer batteries at lower rates, but they are lower quality knockoffs. They quickly stop working, they're defective, and they may even short out your logic board.
The hallmark of a bad battery is lower usage time. If you change your battery and it indicates a full charge faster than normal, your battery is diminishing. Additionally, when your laptop is unplugged and quickly indicates a low battery status, it's time for servicing. Come to Creative Computers today!
Consistently check your battery status. Don't ignore a "service your battery" warning. A weakened battery can become so bad that it "blows up" in your laptop, filling with air and creating a perilous situation in your MacBook.
Our service is the best alternative. These services are primarily interested in upselling or selling a new computer, we're only interested in repairing your MacBook. Other repair companies will make you wait for an appointment. Then they will send your MacBook off to a repair depot for weeks at time and charge a high rate.
MacBook battery replacement from Creative Computers. Open 6 days a week, free estimates. Battery replacement for all MacBook models. Visit our store in Noble Park!
MacBook PRO SSD Upgrade
If you need to store more music, videos, pictures and files on your computer, it's time for a SSD upgrade. Pricing includes installation of a new SSD and transfer of your data from the old SSD.
MacBook PRO Memory Upgrade
RAM Work, Play & Surf Faster! Nothing increases the performance of your MacBook like a Memory upgrade. All memory carries a lifetime warranty. More memory increases overall machine speed and allows for faster video rendering, photo viewing and application performance.
Common Fault
We know you love your MacBook and thus we are here to help with all your Apple MacBook repairs and service needs
Weak battery? Hazardous bloated battery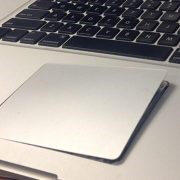 Trackpad not working properly? Buldging trackpad?
Flashing question mark folder? Cannot go into OS?
Frequently Asked Questions
Q: My Battery says, ``Service Battery``, do I need to replace it?
A: Not necessarily. You can attempt to service the battery by charging to 100% and then discharging to 0%. Sometimes an SMC reset can help. If the message does not go away, then it's time to assess how long the battery lasts and how long you need it to. Only replace a battery when it no longer lasts long enough for you (or if it is swelling). Not when software tells you to after an arbitrary number of cycles.
Q: My Battery says, ``Replace Now`` or ``Replace Soon``, do I need to replace it?
A: These messages mean that the battery is still operating normally, but that it holds significantly less charge than when it was new. It's time to assess how long the battery lasts, and how long you need it to. Only replace a battery when it no longer lasts long enough for you. Not when software tells you to after an arbitrary number of cycles.
Q: My Battery is swelling, do I need to replace it?
A: Yes, and sooner rather than later. When a battery starts to swell it will continue to do so, and it can damage your trackpad or your top case. It also carries the small but real risk of fire or serious injury, especially if it is damaged when attempting to remove it.
Why Choose Us?
Our Technicians have decades of experience in the information Technology Industry. We know cost and fast repairs are important to you. That's why we offer:
Free Quotes to diagnose issue
We are on call Monday to Saturday!
No Need to send your computer out, we can send technicians to you!
No call out fees
No fix no fee policy
Efficient service without the Jargon!
We are Microsoft and Apple Certified
24–48 hour service turn-around time*
4.8 rating on Word of Mouth and Google
*Service time subject to the type of technical issue and may be longer if hardware parts required
Ready to get started?
Contact us today for your free quote!