Computer Won't Turn on or start? Hardware problems?
Power failure is one of the scariest problems that can happen to your PC. If your computer is not powering on don't panic! Most of the time, customers are worried about losing their data, but chances are that the power failure is due to a bad power supply, defective video card, or bad motherboard. 99% of times the hard drive is not affected in this case, and all the data remains intact even though the PC is not powering on. We at Creative Computers, have the necessary testing tools and replacement parts in order to troubleshoot and repair power issues.
Arrange a Home visit
Creative Computers offers a speedy and friendly home or business visit, where we will assess your computer and fix your PC or laptop on site. You can drop it off to our store and take advantages on our onsite specials.

iMac Repair
iMac repair service providers are far and few these days, fortunately you've come to the right place, we offer professional repair services for these Apple branded desktops.
MacBook Repair
We offer quality MacBook repair services for all of our customers, if you find yourself with a broken MacBook, contact us and we can help!
Virus Removal
If you find yourself in the difficult situation of your computer being "locked" or it is running slow and with obscure pop-ups showing, we offer a premium virus cleanup package that's right for you!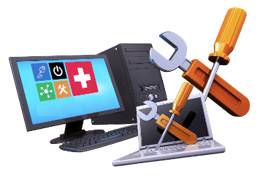 Computer Repair
As everything else shown on this page, we offer PC (non-Mac) repairs as well.
Slow Computer? NO PROBLEM!
If your computer is running slow, it could be a number of factors from failing hard drives, too little RAM or potentially your CPU is just getting too hot, bring it in and we'll have a look!
Hard Drive Repair
If your hard drive is failing (typically this is evident in slowness, crashing, and a strange clicking noise from the desktop or laptop) we can replace these and potentially save your important files (do not hesitate if you find yourself in this situation as time is utterly important regarding the safety of your data).
Frequently Asked Questions
Can Creative Computers come to me?
Yes, just give us a call on 0433 136 255 or send us an email to info@creative-computers.com.au and we will ask you a few questions about your Computer Problems and organise a technician to come to you in a timely and punctual manner. Creative Computers are renowned for being punctual and not letting you down.
My computer does absolutely nothing when I switch the power on?
Sounds like your power supply has failed. We provide only top-quality replacement power supplies for all makes of computer systems. Beware of cheap power supply units. When they fail, they can take your whole machine with it. We only supply power supplies with active protection circuitry which protects the components inside your computer in the event of a power supply failure.
My computer is running really slow what's going on?
There are many reasons that a computer will run slow. It could be a virus infection, spyware infection or even a hard disk problem. You might have completely up to date anti-virus software and still be infected. We've seen it many many times.
Drop your machine in for an inspection and we'll let you know what needs to be done. Remember, we charge the most competitive price to repair your computer. No hidden fees, no overpricing and therefore no worries.
I'm a pensioner or student and have no means of transport what can you do?
Here at Creative Computers, we provide free collections and drop off services for every customer, old or young this service is free for everyone. Call us now for a free PC call out in Noble Park.
When your computer comes in for repair here at Creative Computers it gets the best treatment. We clean every machine that we see, inside and out!! We'll get rid of those years of dust that are hidden away inside so that your machine will once again run cool and quiet.
Service and sales
Looking to buy cheap, refurbished, or new laptops or desktop computers? With Creative Computers, you have the reassurance that the items you buy are in full working order. Customer satisfaction is what we've built our business upon – we wouldn't be where we are without it.
I'm worried about my data, is it safe?
We will always take great care in looking after your data. We confirm to the Data Protection Act and any data we hold is held in strict confidence. We undertake work for several local businesses including solicitors, and other business's and understand how important personal data is. Any customer data that is stored is always stored password protected and in encrypted format. We always advise, if possible, you take a backup of any data on your computer prior to any work being undertaken and we can discuss any backup options with you if needed.
Why would l want to use you when I could go to a big brand high street store such as One Click PC?
Offering a personal service is top of our list; you will speak directly to the person working on your computer so you can explain the situation in detail. We turnaround repairs quickly, we do not send anything away to service centers and we don't quote 5+ days for repairs. We don't charge any upfront costs, you only pay for work once it's completed and when you are happy with it.
How long will my repair/service take?
We repair most faults within same days, we also offer a 24-hour priority service (subject to availability of parts if needed). If we need to order parts, then we can normally get these next day delivery. We realise how difficult being without your computer can be and we will always try to get it back to you as quickly as possible.
Why Choose Us?
Our Technicians have decades of experience in the information Technology Industry. We know cost and fast repairs are important to you. That's why we offer:
Free Quotes to diagnose issue
We are on call Monday to Saturday!
No Need to send your computer out, we can send technicians to you!
No call out fees
No fix no fee policy
Efficient service without the Jargon!
We are Microsoft and Apple Certified
24–48 hour service turn-around time*
4.8 rating on Word of Mouth and Google
*Service time subject to the type of technical issue and may be longer if hardware parts required
Ready to get started?
Contact us today for your free quote