MacBook Pro Trackpad Replacement
When you own a MacBook Pro, you know that it's not just the laptop itself that will run very smoothly and reliably, but also the Apple MacBook Pro trackpad. Unfortunately, when this trackpad gets damaged, it is very likely that you won't be able to operate your laptop as smoothly as before.
Contact Creative Computers to get both fast and high-quality MacBook Pro trackpad replacement service. Our certified professionals will take care of your MacBook trackpad and fix it in a short time.
Both mail-in and on-site services are available.
Price Comparison for MacBook Pro Trackpad Replacement
| | Creative Computers | Every Last Byte | One Click PC |
| --- | --- | --- | --- |
| MacBook Pro Trackpad Replacement | $189+* | ~$330 | ~$365 |
*Price may vary depending on the model, year and location. Call 0433 136 255 for details.
One of the first things that you need to do when you start thinking of a MacBook Pro Trackpad replacement is to find the right service for it. There are many different models of laptop trackpads on the market, which makes it difficult to know exactly which one is going to be the best fit for your MacBook. So, it's better to call the professionals that will take care of those things and save your precious time.
Creative Computers is professionals with over two decade of Apple tech repair experience. We can provide top-notch MacBook Pro trackpad replacement.
Contact Professionals for MacBook Pro Trackpad Replacement
The trackpad is one of the most important components of the MacBook Pro. It is an integrated input device formed of a touch-sensitive surface that provides haptic and tactile feedback to the user when they use gestures on it. Trackpads are also responsible for cursor control and scrolling functions on the computer. If you are experiencing problems with your MacBook Pro trackpad, contact Creative Computers.
Common Fault
We know you love your MacBook and thus we are here to help with all your Apple MacBook repairs and service needs
Weak battery? Hazardous bloated battery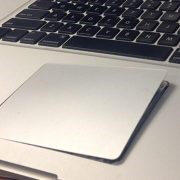 Trackpad not working properly? Buldging trackpad?
Flashing question mark folder? Cannot go into OS?
Back up your MacBook
Please ensure that you have a full back up your Mac before service.
Visit the Apple support site for more details on how to backup.
However, we understand that in some circumstances it is not always possible to do this.
If you are unable to back up, please make us aware & we can discuss data recovery options with you.
For advice on how to back-up your device, please see the links below:
MacBook PRO SSD Upgrade
If you need to store more music, videos, pictures and files on your computer, it's time for a SSD upgrade. Pricing includes installation of a new SSD and transfer of your data from the old SSD.
MacBook PRO Memory Upgrade
RAM Work, Play & Surf Faster! Nothing increases the performance of your MacBook like a Memory upgrade. All memory carries a lifetime warranty. More memory increases overall machine speed and allows for faster video rendering, photo viewing and application performance.
Frequently Asked Questions
Q. How do I fix my Mac trackpad and keyboard?
A. Consult an apple certified technicians if your Trackpad or keyboard is not working. Bring your MacBook to Creative Computers to get it fixed. We have experienced apple certified technician at Creative Computers.
Q. Why is my trackpad clicking hard?
A. Your Trackpad sensitivity maybe very high to make it act like that. you can lower down your trackpad sensitivity to not click hard.
Q. Is it better to use a mouse or trackpad?
A. Depends on you, do you require the middle button of a mouse? If not, then you are fine with the trackpad.
Q. How do I fix an unresponsive touchpad?
A. You can start with cleaning your trackpad and checking for its connection. You can also consult experts at Creative Computers, and they can diagnose and fix it for you.
Q. Is a mouse faster than a touchpad?
A. It depends on how you use it, how comfortable you are with the device. Mouse and trackpad have the same working speed.
Q. Is the Apple trackpad worth it?
A. Apple trackpad comes with various gesture features and does make working with trackpad easier, so it is worth it
Q. Can trackpad replace the mouse?
A. Until a middle button option doesn't come in trackpad mouse cannot be replaced.
Q. Why is my MacBook trackpad not working properly?
A. Your Trackpad may not be working due to various reasons such as
Liquid Damage
Dust and dirt build up
poor connection
Extensive use
Driver issue
All Windows and Apple devices supported
Why Choose Us?
Our Technicians have decades of experience in the information Technology Industry. We know cost and fast repairs are important to you. That's why we offer:
Free Quotes to diagnose issue
We are on call Monday to Saturday!
No Need to send your computer out, we can send technicians to you!
No call out fees
No fix no fee policy
Efficient service without the Jargon!
We are Microsoft and Apple Certified
24–48 hour service turn-around time*
4.8 rating on Word of Mouth and Google
*Service time subject to the type of technical issue and may be longer if hardware parts required
Creative Computers wants to offer you a quick and easy way to get your MacBook Pro trackpad replacement. With our fast, efficient repair service, you'll spend less time without the device you love and more time enjoying it. Contact us today to get your MacBook Pro running again as a new one.
Ready to get started?
Contact us today for your free quote!