Virus and Malware removal
Is your computer plagued with viruses and other malicious software? Never fear – Creative Computers is Noble Park's virus removal specialists, and we can help.
How Do I Know If My Computer Is Infected?
Computer viruses have evolved from minor annoyances to full-fledged security threats. If your computer is acting up, don't delay – let Creative Computers resolve the problem.
Common symptoms of infection include:
General sluggishness

Corrupted or missing files

Malfunctioning programs

Unexplained shutdowns

Strange mouse behaviour
Emails being sent from your account without your knowledge

Pop-up windows on your desktop

Programs asking for credit card information

And other unexpected problems

Bounced-back emails
There are many kinds of viruses and malware, and they may cause very different symptoms from one another. If you suspect that your computer may be infected, bring it into either of Creative Computers for diagnosis.
Our Virus Removal Process
Not all infections look or act the same, which is why it's important to analyse each case first. A computer diagnosis from Creative Computers will reveal:
Exactly what kind of virus or malware you have if any
What needs to be done to fix the situation
What you can do to prevent this problem from reoccurring
What data can be recovered from the infected computer
Our technicians have years of experience in cleaning viruses and malware from computers. No matter how severe the infection, we can clean it up and get your machine working like new again. Our virus and malware removal services are available for Windows, Mac, and Linux computers. Ready to get started? Contact Creative Computers today, or simply bring your computer down to one of our store for a FREE quote. Prefer a house call? We also offer on-site support for homes and businesses.
Keep in mind, these are broad strokes. We do many things, too many to list! Give us a call to see if we can help you with something we missed.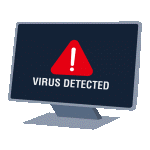 Virus & malware removal
Viruses are nasty little things. We've got the tools & know-how to take care of them though. Just lets us have a look & we'll get it done.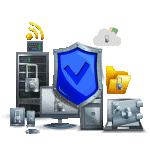 Device protection
Anti-virus, secure firewall, hardened passwords & more all contribute to a secure environment. Let us audit your devices.
Operating system checks
Is your Windows/Mac machine up to date & on the latest version? Maybe you're still on Windows 7, or worse – Vista!
All Windows and Apple devices supported
Types of Infections we can help with
Malicious Software or Malware
Viruses
Worms
Trojan Horse Programs
Ransomware
Popups
Keyloggers
Rootkits
Junkware
Adware
Rootkits
CryptoLocker
SQL Slammer
Nimda
Klez
Call Us
Call us or Request a Call Back for Laptops and Game Consoles, Mac Repairs. We Offer Computer Repairs in Noble Park on the same day.
We Will Discuss
Friendly, expert staff will understand the Laptop and Apple Mac as well as Desktop Computer Problems.

Same Day Services
Most of the Laptop and Apple Mac issues we can resolve within an hour.
No Fix, No Cost
For unforeseen reasons we can't fix your computer problem, we won't charge our customers for any diagnostics.
Frequently Asked Questions
Q. What are the signs that your computer has been infected with a virus?
The most common signs of a virus infection include missing and deleted files, strange pop ups, very aggressive advertising, strange programs, your computer constantly crashing, strange toolbars, internet browsers not loading, computer not booting up. Speak to us if you suspect you have a virus on your computer.
Q. What's the difference between a virus, malware and spyware?
A virus is the most serious type of infection. This can cause your computer to crash, files to get deleted, being locked out of your computer, and your computer being damaged.
Malware and Spyware is much more common than a full-blown virus, and is commonly picked up by downloading free software, pirating movies and tv shows, clicking on spammy websites or opening scam emails. Signs of a malware infection include sending out SPAM emails, a slow computer, aggressive advertising pop ups, and strange programs installed on your PC or Mac.
Q. What is ransomware and why is it dangerous?
Ransomware is the most severe and dangerous type of computer virus. It essentially locks up all your files and documents on your computer and demands a ransom payment, usually in bitcoin. These are very sophisticated viruses, and if you don't pay the ransom, you may not be able to retrieve your files. Always make sure you are running backups, and always be careful opening emails and email attachments.
Q. Can you get a virus or malware on an Apple Mac computer?
Yes, you can. There is a common misconception that Apple Mac computers do not get viruses or malware. We are seeing more and more malware infections on Mac. As Mac computers have become more popular in the last five years, hackers have become more aggressive in targeting apple mac computers.
Q. How does a computer get infected with a virus or malware?
The most common way a computer gets infected with a computer virus, is through downloading a fake/virus file from a fraudulent website or clicking on an email attachment which has been made to look like a real file. Contact us if you suspect your computer is infected with a virus or malware.
Why Choose Us?
Our Technicians have decades of experience in the information Technology Industry. We know cost and fast repairs are important to you. That's why we offer:
Free Quotes to diagnose issue
We are on call Monday to Saturday!
No Need to send your computer out, we can send technicians to you!
No call out fees
No fix no fee policy
Efficient service without the Jargon!
We are Microsoft and Apple Certified
24–48 hour service turn-around time*
4.8 rating on Word of Mouth and Google
*Service time subject to the type of technical issue and may be longer if hardware parts required